About
Summary
Last.FM metadata fetcher.
Full
The Last.FM metadata fetcher is taking all kinds of metadata from last.fm for your music collection.
The following metadata is taken from last.fm:
Artist Images
Artist Biography
Album Covers
Similar Artist
Similar Songs
Similar Genres
Screenshots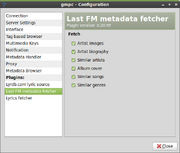 Requirements
Download
Stable
Old
Unstable
This plugin is located on repo.or.cz here

To get a checkout:
git clone git://repo.or.cz/gmpc-last.fm.git

Community content is available under
CC-BY-SA
unless otherwise noted.